The Do's and Don'ts of Website Design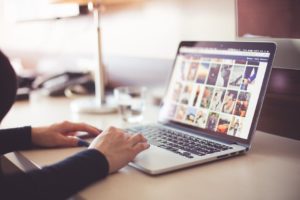 First impressions matter, maybe even more in our digital era than ever before. We live in a world where more often or not people search Google before shopping and check Yelp for business reviews before they buy. First impressions are formed within the first seven seconds and cementing a great first impression in the eyes of your business prospects is paramount when it comes to business success. With so many people turning to online, it has become necessary for a business to have an online presence to compete. Creating a business website is an important step in the process. Let's go over a few of the do's and don'ts when it comes to your business website.
The Do's
Invest in creating a professional, secure site for your business. 81% of shoppers conduct online research about a business before making a purchase. They don't just want to know your name and address, which is valuable information to have listed. They want to know who you are as a business. What are your values, your services, your prices? Do other people recommend you? These are all questions shoppers ask themselves as they research business online. That is why this step is one of the most important. This is your first impression. Investing in a professional secure site for your business will allow you to portray your business attributes in an organized visually appealing way. You can answer all of their questions with your website and convert them from visitors to customers.
Keep it simple Often I see business owners who try to build flashy websites by overloading their pages with pictures and clashing colors and fonts. This is not going to attract visitors to your business; it can actually turn them away quite quickly. Having a visually appealing site, will not only help you attract traffic to your website but also increase visitor interaction. Remember first impression, you don't want to overwhelm the visitor all at once. Customers lose interest in something if they aren't sold in a split second.
Make contacting you easy from any page. Having a contact form for visitors is an excellent way to learn more about your customers and to gain leads in your business. Having the information sent to you can almost be preferred to a phone call, because you can recall the data and touch back in with your prospective customer. Keep the contact forms simple, yet informative.
Ensure your website is mobile and tablet friendly by making it mobile responsive. Assuming because you have a website online, it is easily accessible to mobile and tablet users is harmful to your web presence. More often than not users are searching for businesses through mobile search. Having a website that is appealing and responsive can make all the difference in converting a visitor to a customer.
Link your website to all of your social accounts. Do you have any social media accounts? Make sure they are included and linked to your website. This will allow you to share relevant content through a variety of channels funneling visitors to your website.
Add reviews to your website. 61% of people will read reviews before making any purchase. I come across many websites who don't utilize this valuable resource. Reviews online on sites such as Yelp, Google, Facebook and even sites such as Home advisor and Angie's list are your customers who have already had amazing experiences with you. Highlighting these experiences for potential customers can help seal the deal.
The Don'ts
Publish irrelevant content. Knowing your website visitors' and knowing what they want to see is an essential part of website designing. By showing relevant information to your visitors your website is more likely to create and maintain engagement on your page.
Don't over complicate your page. Avoiding this is key to keeping your page visually appealing. The usage of too many colors, hard to read fonts, too much copy or images will overwhelm your website guest and they will leave. Also overcrowding your site can cause a delay in loading which is an instant turn off to prospects with 39% ending engaging with a website if images take too long to load, or don't load at all.
Underestimate the power of SEO 75% of people never scroll past the first page of search engines. Search engine optimization, or SEO, is vital to drive the appropriate traffic to your page. Understanding the way that Google and other search engines work when it comes to ranking your page in the listings will help you create the most relevant site for the search engines to direct viewers to. Hiring a knowledgeable firm to assist you with SEO can be valuable.
Forget to test. Don't forget to look at your website, Double check to see if the images load quickly and correctly, to see if your links are live, and if they are directed to the correct pages. This will ensure that your website visitors area able to see the content that you intended for them to see. Visitors will quickly click away if pictures fail to load or content is easily accessible. Also have your friends and family give the website one final double check before it goes live. They can offer invaluable insight to the functionality of your site.
In conclusion the necessity of having a website for your business is apparent.
Not only are the majority of people searching for businesses online before purchasing, they are researching companies and comparing them. A website is the first step in competing with your competitors online. Having an online presence can prove to be the difference between receiving a phone call or never hearing from a customer. Following the do's and don'ts outlined in this blog will put you on your way to portraying the best first impression of you business possible.
Designing a website can be essentially overwhelming to a business owner who is already consumed by the business. That is what we are here for. Let O 24 Solutions work with you to convey your business in a professional manner with a custom website design. Interested in learning more? Please leave your comments or give us a call 619-343-8120.