The Importance of an Online Reputation for Businesses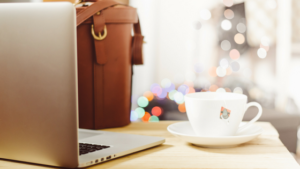 As a small business owner, typically most of your customers are the people who live locally. So does it even matter what the Internet is saying about your brand and your business??
Yes, Yes it does!
A new report called, The Company Behind The Brand: In Reputation We Trust, breaks down exactly why business owners should be concerned with their online footprint. The report lays out that any disconnect between corporate and brand reputation can trigger a consumer reaction. So, even if your product or service is amazing…your brand image is less than awesome, it can still hurt your business.
According to the report, 96% of consumers took some kind of action after learning that a product they like is made by a company they have a negative relationship with
What kind of action are they taking? Take a look at the data.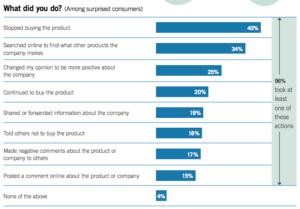 40% of consumers stopped purchasing the product, which was the most common response from consumers. In fact, consumers were twice as likely to stop buying the product that they originally admitted to liking, as they were to continue to buy it. That is pretty startling to business owners. However, consumers who didn't stop buying the product went searching online to attempt and learn more about the company. These statistics truly speak to the importance of creating a positive online presence for your business.
Word of mouth has always been an important tool for business owners. With the advance of technology consumers are now using social word of mouth, online reviews, and other online content to form an educated judgment about your business. Especially when conflicted, the Internet is where they search for answers about your business and whether or not to trust your business. This judgment can play a key role in the consumer's decision of whether or not to purchase a product, or service from your business.
It doesn't matter what audience your business targeting. Local consumers are using the Internet to find information about businesses. So, It's up to you as a business owner to ensure they're finding the right kind of information. Now the question is what should small business be doing to help their online presence?
Create a Web site: Your brand Facebook profile or Google+ business page is great. But your business still needs a website. It is a great place to utilize to talk about your product/services, establish credibility, build trust, introduce your business, offer resources, educate your customers, and highlight your accomplishments.
Blog: Content marketing is extremely important and blogs are an amazing resource to curate useful information for your customers. By providing content on a regular basis you ensure that there is something you can promote on your website, and social media, but also helps discoverability on search engines. The more relevant and useful your blog post are to your business the more beneficial it will be for your business.
Get involved in social media: Find which social media channels will work best with your business. There are many great options such as, Facebook, Twitter, Instagram, ect. Find out where your audience is engaging online, and build a community there. Don't just post, but engage with your audience, let them get to know you on human level while still remaining professional.
Get involved in your community: As we have mentioned before word of mouth is extremely important when it comes to businesses. And cultivating good reputation offline can help build your reputation online. So whether it's sponsoring your town's little league team, speaking at local events, or putting together an industry-related group at the local high school, by getting involved in the community that you live, if they are talking about it offline, they will talk about it online.
Solicit & manage online reviews: As a business we've already discuss how we cultivate great word of mouth offline, here is a way that your customers can broadcast their word of mouth to the world, whether good or bad. This is why it is so important to not only manage, but solicit good reviews on sites like Yelp, Facebook, Google Place Pages, TripAdvisor, etc. Make sure you're not only doing what you can to encourage customers to leave reviews, but positively responding to any negative or neutral comments that may be there. By responding to negative feedback, you don't only address the concerns in the review but you show how your business is proactive in addressing the concerns of your customers. This helps you retain the relationship with your customers.
Spending time and effort on online reputation management is important for businesses of any size. Not only do you want to create a positive online presence, to create trust with consumers.. As the report mentioned above details, no matter how great your product is – if people don't trust you, they won't be interested in it.
Are you Interested in finding more information as to how building and monitoring your online reputation? Call 619-343-8120 to speak with an expert today!